So, it's been a super long time since I've written a book review. Because of that, I have A LOT of books to talk about. Instead of writing my wordy reviews, I'm going to start keeping them short and sweet (you're welcome). I'll give the Goodreads summary of the book, my brief thoughts, and my overall recommendation. Without further adieu, here are a few books I've read over the past months: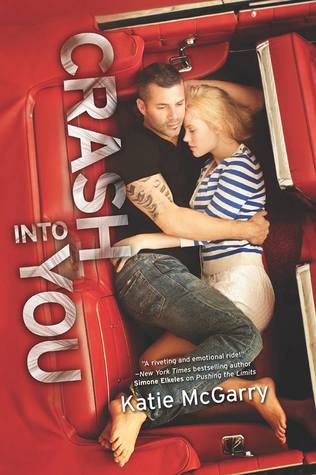 Goodreads Summary:
The girl with straight As, designer clothes and the perfect life—that's who people expect Rachel Young to be. So the private-school junior keeps secrets from her wealthy parents and overbearing brothers...and she's just added two more to the list. One involves racing strangers down dark country roads in her Mustang GT. The other? Seventeen-year-old Isaiah Walker-a guy she has no business even talking to. But when the foster kid with the tattoos and intense gray eyes comes to her rescue, she can't get him out of her mind.
Isaiah has secrets, too. About where he lives, and how he really feels about Rachel. The last thing he needs is to get tangled up with a rich girl who wants to slum it on the south side for kicks-no matter how angelic she might look.
But when their shared love of street racing puts both their lives in jeopardy, they have six weeks to come up with a way out. Six weeks to discover just how far they'll go to save each other.
My Thoughts: This book came to me at the perfect time! I was in somewhat of a reading slump, trying to read too many deep, profound texts (not great summer reading). I needed something fast and fun - this book is both! I know this is the third book in the series (didn't know until I finished it), but it's really a standalone. Each book in the series focuses on a different couple, so I didn't feel like I was lost or missing anything. The characters are great and extremely rootable for (not a word, I know, but you get it). Although it looks like a thick book, the story moves really quick, sucking you in from the very beginning. It's a great romance story with that bad-boy edge to it. I definitely recommend it and am looking forward to reading the rest of the series. Fans of Simone Elkeles (Perfect Chemistry) need to check this series out right away - you'll love it!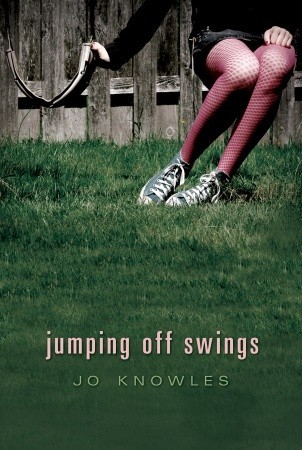 Goodreads Summary: One pregnancy. Four friends. It all adds up to a profound time of change in this poignant, sensitively written YA novel.
Ellie remembers how the boys kissed her. Touched her. How they
begged for more. And when she gave it to them, she felt loved. For a
while anyway. So when Josh, an eager virgin with a troubled home life, leads her from a party to the backseat of his van, Ellie follows. But their "one-time thing" is far from perfect: Ellie gets pregnant. Josh reacts with shame and heartbreak, while their confidantes, Caleb and Corinne, deal with their own complex swirl of emotions. No matter what Ellie chooses, all four teenagers will be forced to grow up a little faster as a result. Told alternately from each character's point of view, this deeply insightful novel explores the aftershocks of the biggest decision of one fragile girl's life — and the realities of leaving innocence behind.
My Thoughts: Jo Knowles has been on my reading radar for awhile, but for some reason I've never picked up one of her books. After many of my female students read and loved this book, I figured I might as well jump in (not off...sorry for the lame pun). I like this book, I do, but it didn't wow me quite like it did some of my teen readers. I really enjoyed the different perspectives; I felt like the voices of all four characters were real and well-defined. The story wasn't just about teenage pregnancy either; it really was a story about barriers and how growing up with different backgrounds can shape a person. And, not only was the story engaging, but Knowles writing really is beautiful. Although this isn't my favorite book, I want to read more by her. Plus, I can see why my teen readers loved this book, and I will continue to highly recommend it to them.
Goodreads Summary:
While Nick Gardner's family is falling apart, his best friend, Scooter, is dying from a freak disease. The Scoot's final wish is that Nick and their quirky classmate, Jaycee Amato, deliver a prized first-edition copy of
Of Mice and Men
to the Scoot's father. There's just one problem: the Scoot's father walked out years ago and hasn't been heard from since. So, guided by Steinbeck's life lessons, and with only the vaguest of plans, Nick and Jaycee set off to find him.
Characters you'll want to become friends with and a narrative voice that sparkles with wit make Gae Polisner's
The Pull of Gravity
a truly original coming-of-age story.
My Thoughts: I loved the characters in this book, particularly Jaycee and the Scoot. They are witty, funny, and optimistic in such a unique way (even the Scoot, who knows he's dying). I also really enjoyed the journey aspect of the story. Nick and Jaycee literally go on a journey, but it seems like every character is on some important personal journey (it actually reminded me a lot of John Green's Paper Towns in that way). As an English teacher, I liked the role Of Mice and Men played; if you teach Steinbeck's novel, you should consider using this as a companion piece, or at least highly recommend it. This is another quick read with an engaging story and beautiful writing that, in my opinion, appeals to a wide variety of readers.